Progress: 0%
Registry
What are the benefits of registration?
Ability to track volume and scope
Review of risks and preparations
Clarity regarding authorized programs
Identification of training and resource needs
Ability to publicly post/advertise program
What needs to be registered?
All programs falling under the policy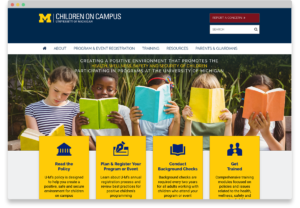 The Registry is not an approval process
Approval and sponsorship is determined at the sole discretion of the dean, director or department head
Registration information will be reviewed to identify potential concerns and the need for additional resources or planning
How do I register?
Registry available at childrenoncampus.umich.edu
Recommended that registration be completed at least 60 days in advance of the program start date to allow sufficient time for planning