Progress: 0%
Who must undergo a background check?
All adults who participate in programs involving children and teens who have:
Direct interaction with children
Potential for one-on-one contact with children
The responsibility for supervising children
Background checks are not required for persons who are:
Exempted under union bargaining agreements
Guest speakers/instructors who will be speaking in group settings only
Adults who may have casual proximity but no direct interaction with children (e.g., maintenance, janitorial, etc.)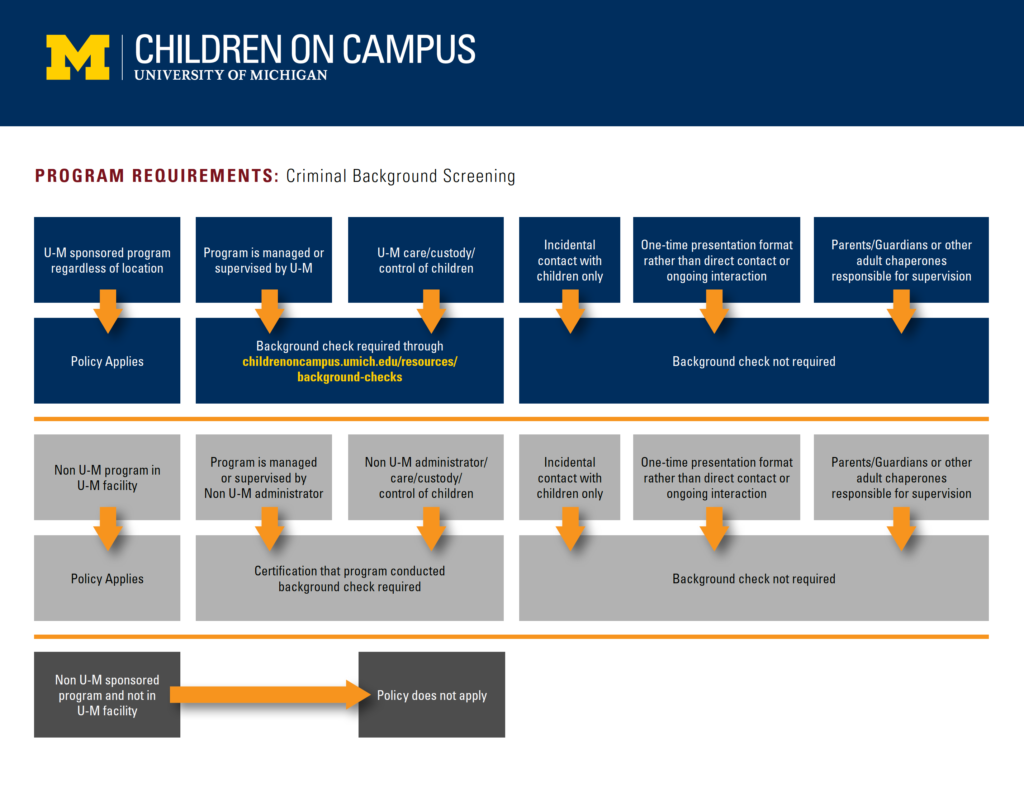 ---
How does the process work?
Required biannually
Free to program
Portable for persons involved with multiple programs
Screening for specific groups may require alternative or additional review processes

Union bargaining agreements
Guest speakers/instructors
Proximity but no direct interaction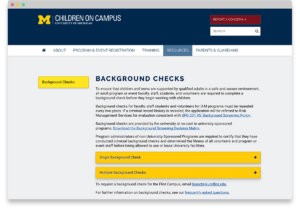 Administered by University Human Resources

Minimum two-week turnaround

Request through website
"Invitation" sent to candidate by third party vendor
Reminders sent, expire after seven days
Candidate provides detailed information through a secure website
Results reviewed by University Human Resources andRisk Management Services
Program administrator notified
---
Special Circumstances
It may not be reasonable to conduct criminal background screening for all authorized adults in a program. Exceptions to the requirement for criminal background screening of all adults can be considered under special circumstances with implementation of alternative safeguards.
Examples include:
Partnerships with community partners
Size of the program or number of authorized adults involved make it impractical to obtain criminal background screening of all authorized adults
Adults will have limited direct contact with children
Exceptions to the requirement must be pre-approved. The Risk Management Department  is available to work with program administrators to explore options and reasonable alternatives.