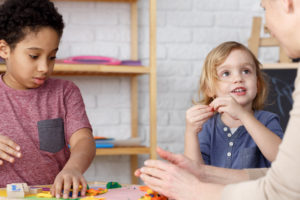 Each year, thousands of children and teens interact with the University of Michigan through a variety of programs and events both on and off our campuses.
Creating a positive environment that promotes their health, wellness, safety and security is of utmost importance to the university, and we've established guidelines and expectations for program and event administrators, faculty, staff, students and volunteers.
The U-M Standard Practice Guide: Children on Campus 601.34 requires registration of programs or events and provides guidance for all programs and events serving children.
These guidelines apply to programs and activities under the direction and authority of the university on all campuses (Ann Arbor, Michigan Medicine, UM-Flint, UM-Dearborn, Athletics) or off-campus.
These guidelines are also expected to be followed for programs or events that are not sponsored by the university but take place on university campuses or in university facilities.
Program Administration
Risk Management Services
3050 Wolverine Tower
3003 S. State St.
Ann Arbor, MI 48109-1269
Phone: 734-764-2200
Fax: 734-763-2043
Email: childrenoncampus@umich.edu